The voting period for the 2023 Cintas Custodian of the Year contest is now open until April 14!
Check out their inspirational stories below.
Vote Now
2023 – Richard "Rich" Toomey Kelly Mill Elementary
(Cumming, Georgia)
Rich Toomey goes way beyond the call of duty. Not only does he wonderfully manage custodial staff at his school, but he also keeps the 10-year-old building in perfect condition. Everyone knows they can count on Richard to help with anything needed. Whether it's climbing on the roof to get balls for kids at recess, planting crops, carrying heavy items for teachers or digging through the trash for a mouth retainer, he does it all with a smile on his face. Richard also goes out of his way to provide in-depth classroom cleaning for students with compromised immune systems to help ensure their health and safety.
Other Finalists from 2023:
Abdul Akeely – Burns Park Elementary School (Ann Arbor, Mich.)
Paul "Mr. Paul" Baerenwald – Mapleview Intermediate School (Kimberly, Wis.)
Rodney "Mr. Peanuts" Esser (Runner Up) – Park Elementary School (Cross Plains, Wis.)
Ramiro Hernandez Julia – Tohopekaliga High School (Kissimmee, Fla.)
Barbara "Mrs. Barbara" James – Yulee Primary School (Yulee, Fla.)
David "Mr. Dave" Jeffers (Runner Up) – Brokaw Early Learning Center (Oswego, Ill.)
Quan "Mr. Quan" Le – Friendswood Junior High (Friendswood, Texas)
Doreen "Ms. Doreen" Merritt – Elms Elementary School (Jackson, N.J.)
Jessica Prado – Texas A&M University (College Station, Texas)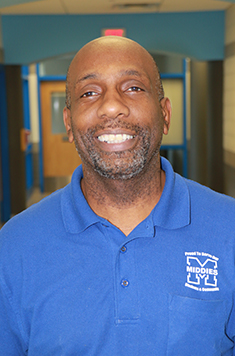 2022 – Lydell Henderson
Presidential Park Elementary School (Middletown, New York)
According to staff at Presidential Park Elementary School, Lydell is not only a hard worker who has made coming back to school in person possible by reconfiguring cleaning protocols and procedures, but he is an extraordinary human. One day while he was cleaning the cafeteria, a student began choking, and Lydell immediately jumped into action. He performed the Heimlich Maneuver on the student and saved their life, which the school is forever grateful for. While he has been at his current school for nine years, he is well-known for his unmatched professionalism the last 34 years in the school district.
Other Finalists from 2022
Rigoberto (Rigo) Bedolla – Las Animas Elementary School (Gilroy, Calif.)
Becky Burkhart – Chadwick School (Chadwick, Mo.)
Gerald Carter – Pike Road Elementary School (Pike Road, Ala.)
Frank DiPaolo – Washington Irving Elementary School (Oak Park, Ill.)
Ilka Jenkins – Bricker Elementary School (Colorado Springs, Colo.)
Raymond Johnson – Virginia Commonwealth University (Richmond, Va.)
James Lewis – Beltsville Academy (Beltsville, Md.)
David (Dave) Martin – Whitebead Public School (Pauls Valley, Okla.)
Louis (Lou) McCullen – Pohatcong Township School (Phillipsburg, N.J.)