Voting for the 2022 Custodian of the Year is now open. Here you are able to see all of this years nominees and using the form below, select your choice to win the Custodian of the Year award.
Vote Now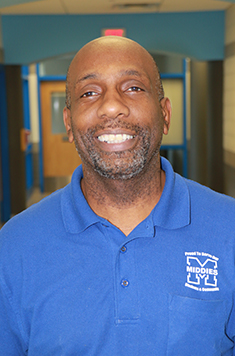 2022 – Lydell Henderson
Presidential Park Elementary School (Middletown, New York)
According to staff at Presidential Park Elementary School, Lydell is not only a hard worker who has made coming back to school in person possible by reconfiguring cleaning protocols and procedures, but he is an extraordinary human. One day while he was cleaning the cafeteria, a student began choking, and Lydell immediately jumped into action. He performed the Heimlich Maneuver on the student and saved their life, which the school is forever grateful for. While he has been at his current school for nine years, he is well-known for his unmatched professionalism the last 34 years in the school district.
Other Finalists from 2022
Rigoberto (Rigo) Bedolla – Las Animas Elementary School (Gilroy, Calif.)
Becky Burkhart – Chadwick School (Chadwick, Mo.)
Gerald Carter – Pike Road Elementary School (Pike Road, Ala.)
Frank DiPaolo – Washington Irving Elementary School (Oak Park, Ill.)
Ilka Jenkins – Bricker Elementary School (Colorado Springs, Colo.)
Raymond Johnson – Virginia Commonwealth University (Richmond, Va.)
James Lewis – Beltsville Academy (Beltsville, Md.)
David (Dave) Martin – Whitebead Public School (Pauls Valley, Okla.)
Louis (Lou) McCullen – Pohatcong Township School (Phillipsburg, N.J.)